With the start of a new year comes resolutions. New goals to set forth and conquer. One of my resolutions for 2017 (and hopefully a few of yours too) is to play more golf. We are so lucky to live in a state that boasts so many world class golf courses, most of which are open to the public. With copious options to choose from, where does one start? I've combed through the most unique, highest awarded, best value, and overall playability of all public courses in Washington to help you decide. Here is my list for the 10 best public golf courses in Washington State. Get out there and try these gems!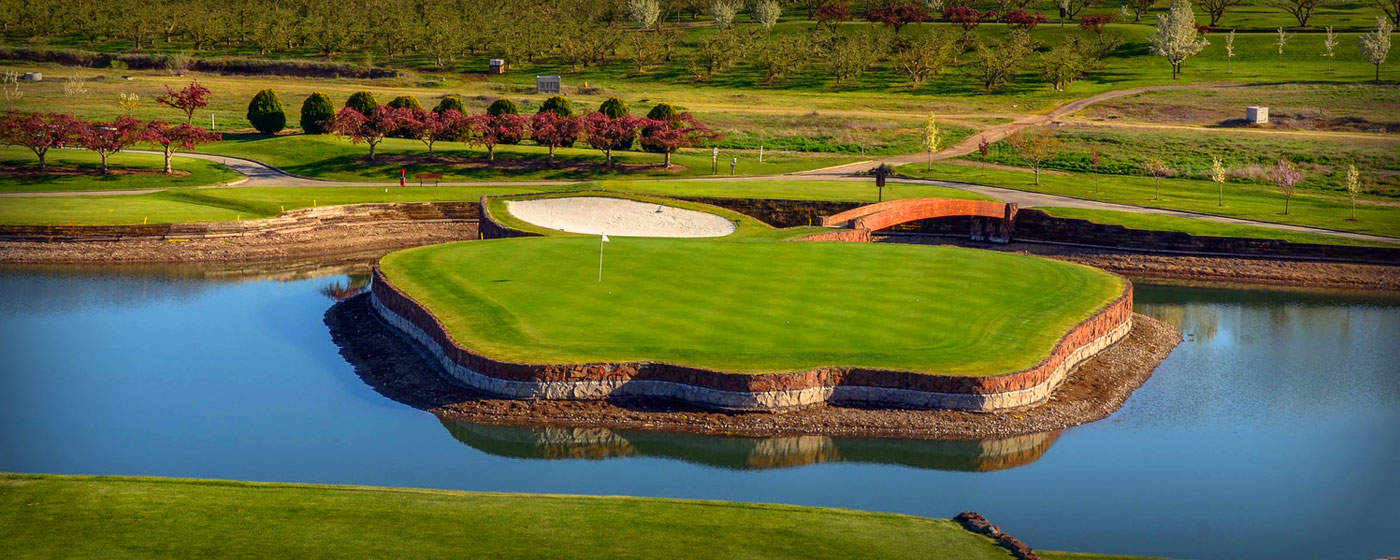 10. Apple Tree (Yakima, WA)
Well known for its apple shaped island green, Apple Tree Golf Course is fun yet challenging. The course layout weaves thru acres of apple trees. Once secluded, the course's charming appeal brought with it increased development. Regardless of recent growth, it's still a must try Washington course! Apple Tree offers discounts for local Yakima residents as well as discounts for senior and junior golfers. Apple Tree also offers the option of renting a GolfBoard. Speaking from personal experience, these things are a ton of fun if you haven't tried them yet.
Standard Rates
Primetime (Mon-Thurs): $43 Resident / $58 Non-Resident
Primetime (Fri-Sun): $58 Resident / $73 Non-Resident
Twilight (Mon-Thurs): $29
Twilight (Fri-Sun): $35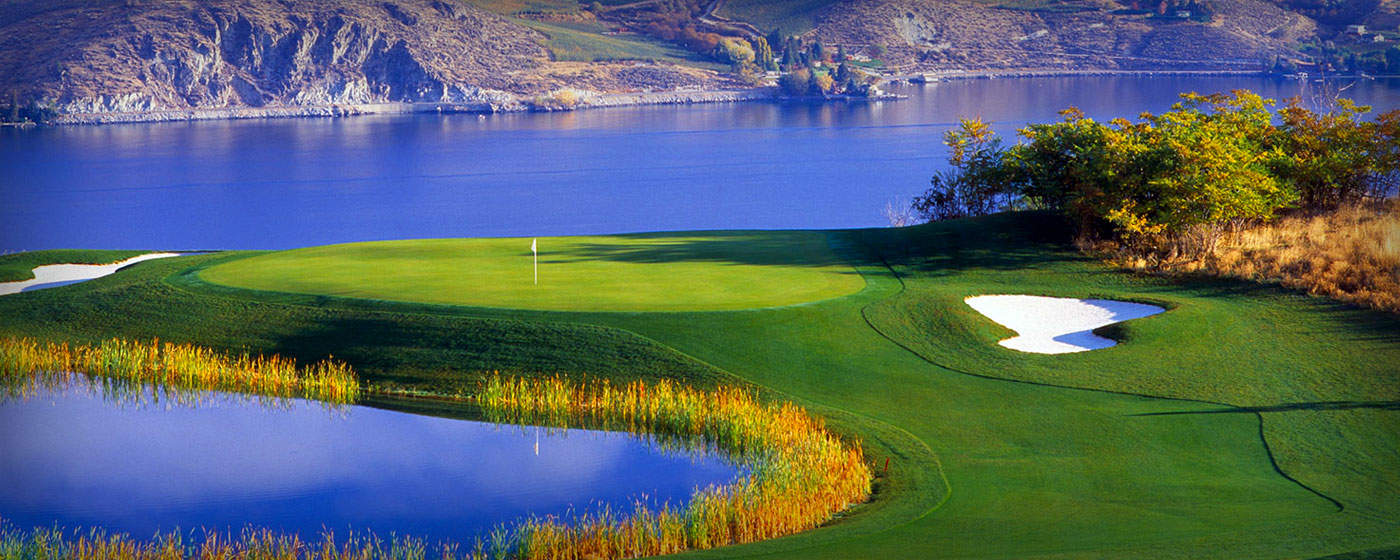 9. Bear Mountain Ranch (Chelan, WA)
A beautiful scenic course located in Chelan, WA boasts stunning views of Lake Chelan, surrounding vineyards, and rugged canyons. Expect to find elevated tee boxes, blind shots, and maybe an eagle opportunity. Golf carts come with built-in GPS systems and are included in the price. Spring season rates run from April 15th thru May 12th and can save you $20-$30 off your round.
Spring Rates (4/15 – 5/12)
Public (Mon-Thurs): $59
Public (Fri-Sun): $69
Public (Twilight): $49
Standard Rates (5/13 – 10/15)
Public (Mon-Thurs): $79
Public (Fri-Sun): $99
Public (Twilight): $49
Public (Twilight Weekend): $59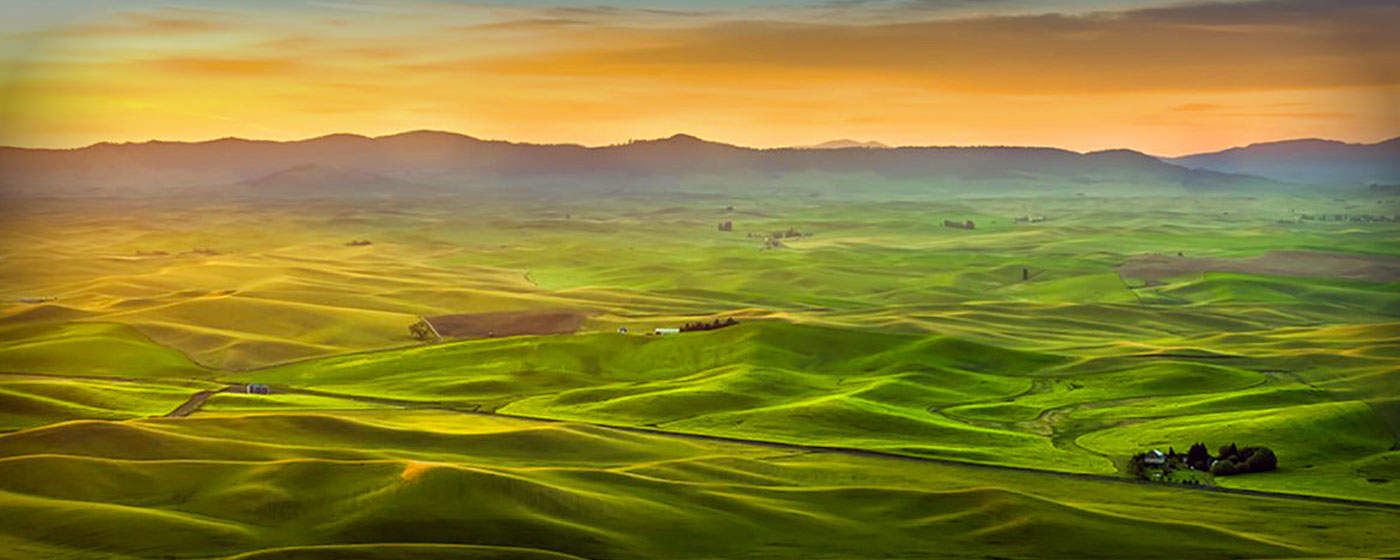 8. Palouse Ridge (Pullman, WA)
Nestled into the gentle rolling hills of the Washington State University campus in Pullman you'll find the 7,308-yard links style Palouse Ridge Golf Club. This track was inspired by the classic designs of Scotland courses where the game of golf was born in the 15th century. Thick fescue frames the well maintained, clean cut fairways. Miss the fairway here and the fescue will make you pay! A challenging track with stunning views to boot. The practice facilities were well maintained; a grass range is always appreciated.
Standard Rates
Non-Resident: $99
Resident: $55
Twilight: $45
Senior: $45
Student: $40 Junior: $20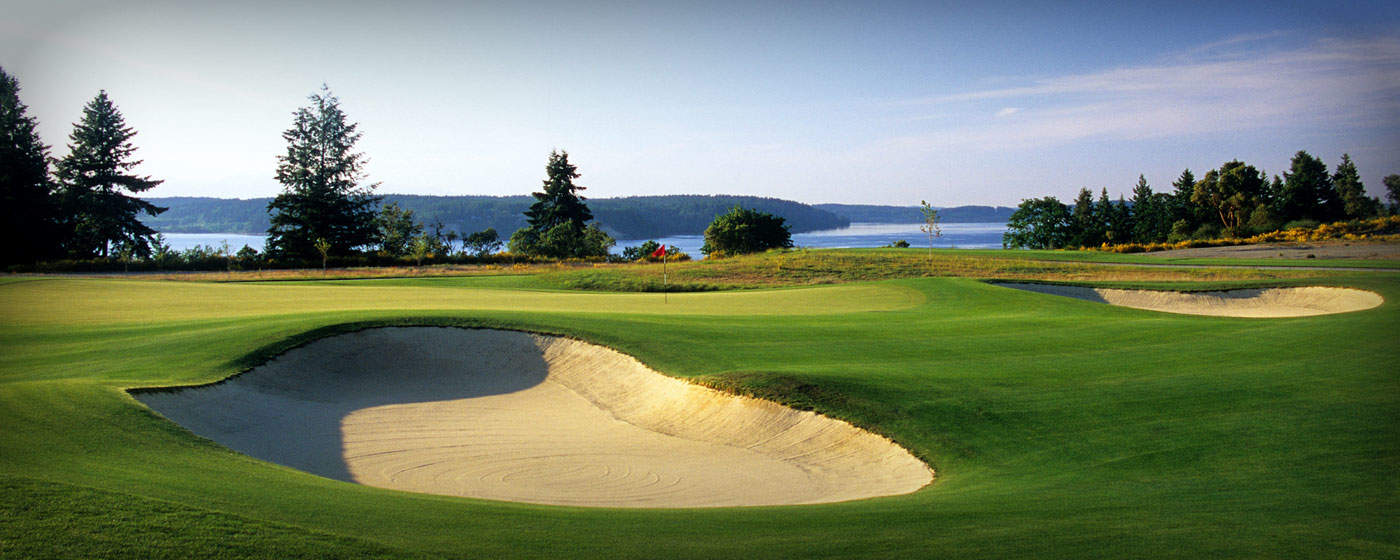 7. The Home Course (Dupont, WA)
Owned and operated by the Washington State Golf Association and the Pacific Northwest Golf Association, The Home Course in Dupont is both affordable and beautiful. It boasts panoramic views of the Olympics, Mount Rainier, and the Puget Sound. A flat layout makes this course a great choice for those who like walking 18-holes. Expect a few blind tee shots and quick greens. Golfers who are WSGA members and have an active GHIN are eligible for reduced rates. Students and seniors also qualify for reduced rates.
Standard Rates
Non-Associate (Mon-Thurs): $35
Non-Associate (Fri-Sun): $45
Non-Associate Twilight (Mon-Thurs): $27
Non-Associate Twilight (Fri-Sun): $30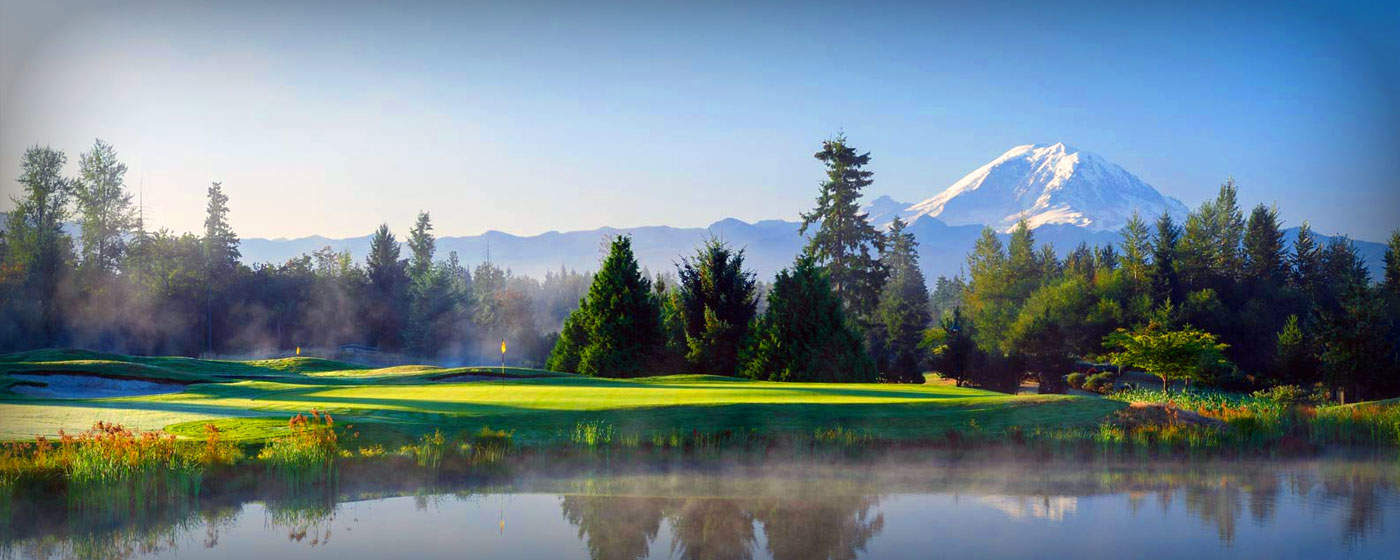 6. Druids Glen (Covington, WA)
Surrounded by 230-acres of second growth forest with spectacular views of Mount Rainier as a backdrop, Druids Glen is a golfer's paradise. This 7,146-yard course features nine lakes and over 60 well placed bunkers. The course can be quite challenging from the back tees, don't bite off more than you can chew. You won't find any short scoreable par-3s here, I found them to play quite long. Overall, Druids Glen presents a challenging but fair test for the average golfer. It's one of the best values you'll find for a public course in the state.
Standard Rates
Public (Mon-Fri): $34
Public (Sat-Sun): $43
Twilight (Mon-Fri): $21
Twilight (Sat-Sun): $26
Senior/Ladies (Mon-Fri): $28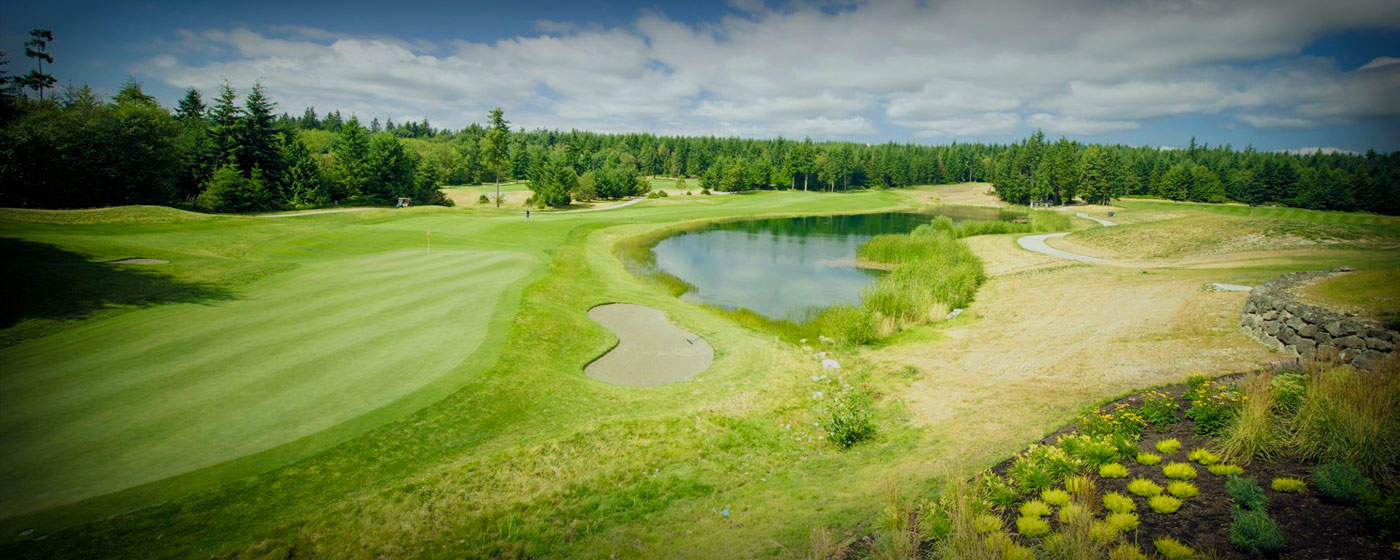 5. White Horse (Kingston, WA)
For those golfers who reside in Kitsap County and its surrounding area, you may want to give White Horse a visit. Seattle golfers can also take advantage of their free shuttle that runs from the Kingston Ferry Dock directly to the course. A quiet peaceful setting, the course is encompassed by an old growth wooded forest of Fir, Cedar, and Pine trees. Keep your eye out for Bald Eagles overhead and other PNW wildlife. Since being purchased by the Suquamish Tribe in 2010, improvements were made to help make the course more enjoyable for players of all skill levels. The greens roll pure and the fairways are well maintained. Be mindful of the sneaky trouble that may lurk around the greens. White Horse offers by far the best rates we found for junior golfers. GolfBoards are also available here to rent.
Standard Rates
Regular (Mon-Thurs): $45
Regular (Sat-Sun-Holidays): $50-$60 depending on time of day
Twilight (Mon-Fri): $25
Twilight (Sat-Sun): $29
Senior (Mon-Thurs): $45
Junior: $10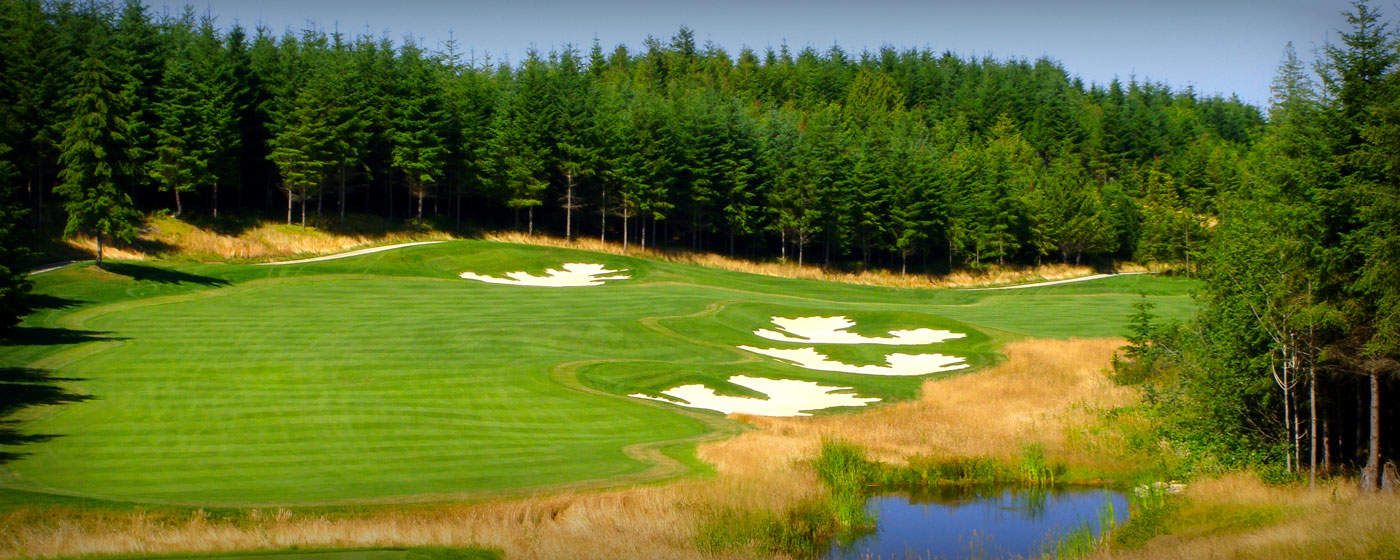 4. Salish Cliffs (Shelton, WA)
This secluded course in Shelton surrounded by dense forestry with over 600 feet of elevation changes, offers stunning views of Kamilche Valley as well as world class golf. The course is very well maintained and their facilities are top notch. Expect to find Titleist NXT Tour range balls available for your practice sessions. Their rental clubs are also top of the line. Titleist 716 irons, 915 metal woods, Vokey wedges, scotty Cameron putter, and half dozen Pro V1 custom logo golf balls are available to rent for $60. The course layout is challenging and requires decent ball striking skills. If you miss the fairway, hope that you'll find it. Thick tree lines, dense shrubbery, and thick rough will make you pay if you struggle with your driver. The greens are well groomed, incredibly smooth, and speedy. It's extremely important to land on the same level as the flag, the undulating greens can be quite tricky to judge. One of the best courses to play in Washington, but it's also one of the more expensive courses on this list.
Rates
Demand Based Pricing: Prices will vary by season, day of the week, time of day, and days in advance booked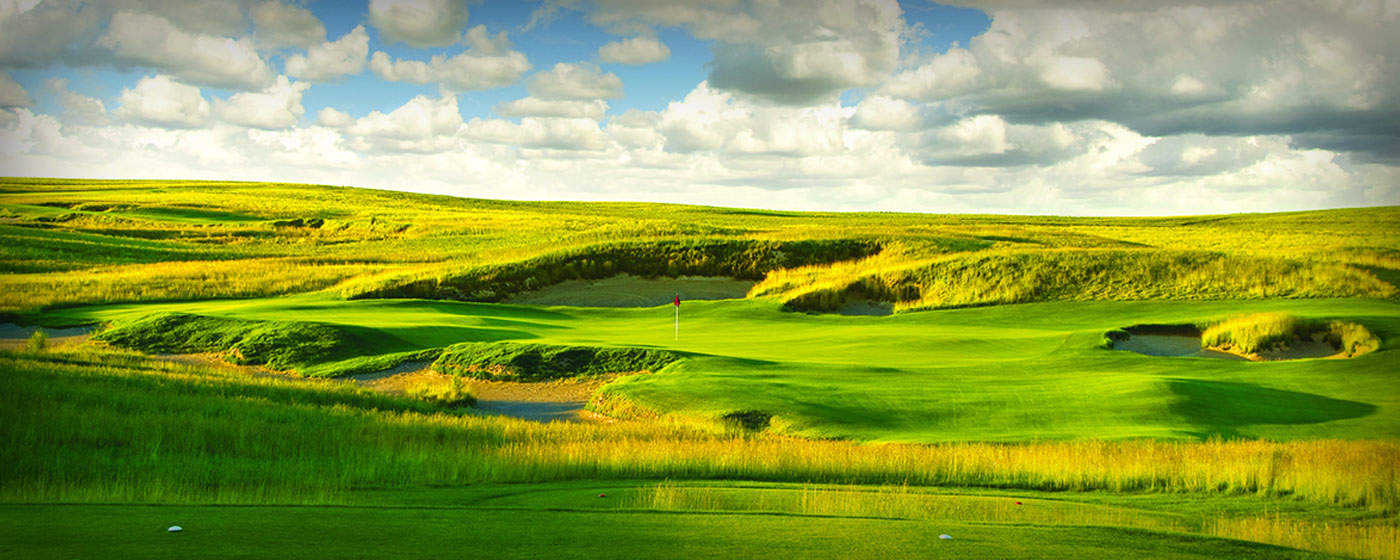 3. Wine Valley (Walla Walla, WA)
This links style course in Walla Walla fits in beautifully with its surroundings. Thick fescue frames the wide, firm fairways. The bunkers can easily turn a good hole bad and are not to be messed with. The course plays hard and fast, be sure to factor in the roll into all of your shots. Play it safe when hitting your approach shots. Missing to the wrong side of the green or finding a deep bunker could be detrimental to your score. A fun course that plays to the strengths of those with strong course management skills.
Standard Rates
Standard (Mon-Thurs): $85
Standard (Fri-Sun): $100
Twilight (Mon-Thurs): $65
Twilight (Fri-Sun): $80
Local Rate (Tues/Sat or Sun): $55/$65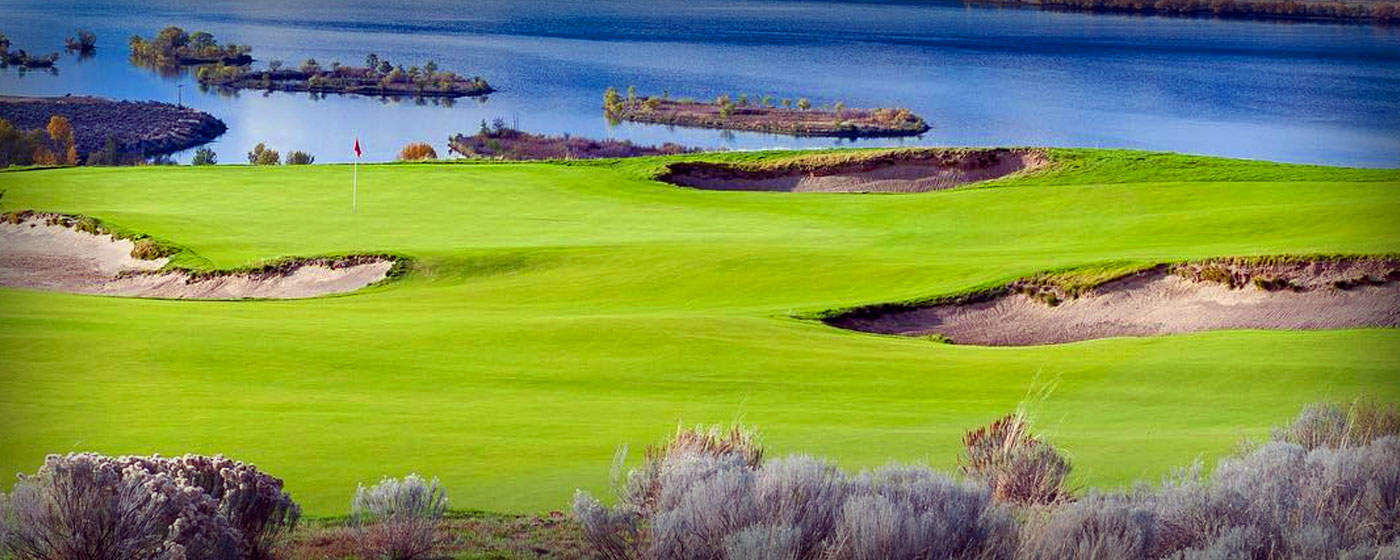 2. Gamble Sands (Brewster, WA)
Stunning views of the Columbia River at every turn combined with world class golf places Gamble Sands near the top of our list. Without a doubt, Gamble Sands is one of the most scenic courses in Washington. Caddies are available here and you'll need them for your many blind shots. In the traditional links style, the course plays firm with wide open fairways and oversized greens. Sandy terrain of the high desert and fine fescue can be found with an errant shot. Gamble Sands isn't excessively punishing, it's built for the average golfer whose there to have a good time. Take advantage of those reduced rates in the spring and make a day trip out of it.
Rates
Spring (Mon-Thurs): $100
Spring (Fri-Sat): $110
Spring Twilight (Mon-Thurs): $85
Spring Twilight (Fri-Sat): $95
Regular Rates (Mon-Thurs): $125
Regular Rates (Fri-Sat): $150
Regular Rates Twilight (Mon-Thurs): $100
Regular Rates Twilight (Fri-Sat): $125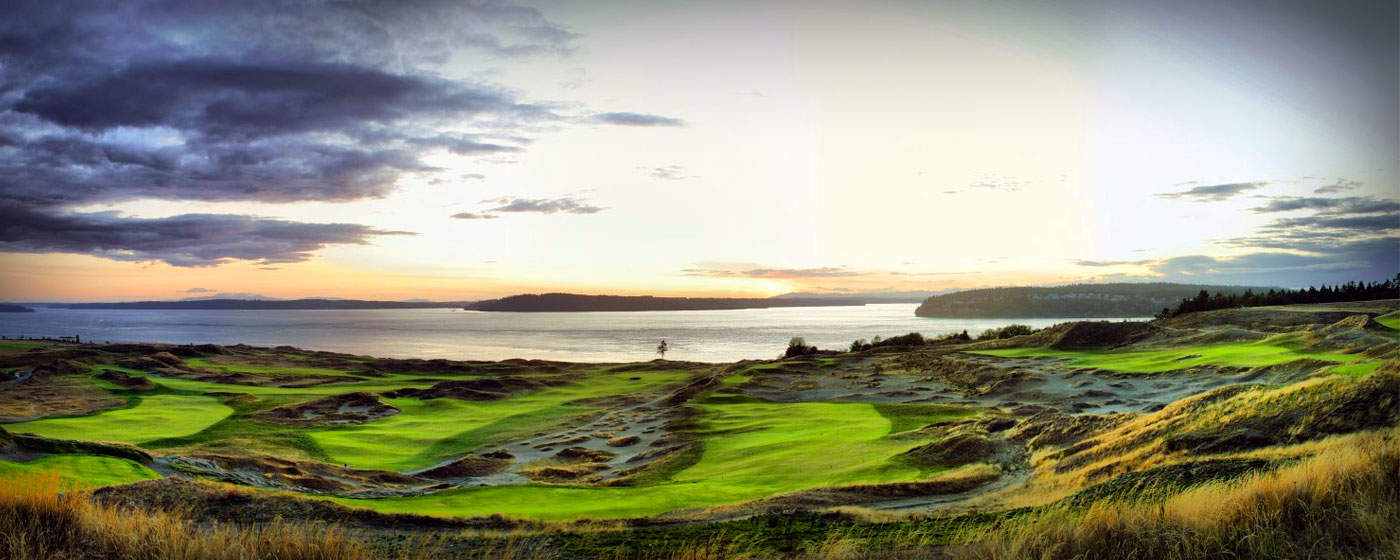 1. Chambers Bay (University Place, WA)
Home of the 2015 US Open, built upon a sand and gravel mine, Chambers Bay is rich in history. Chambers offers sweeping views of the Puget Sound and surrounding islands. Considered by many to be the best and most challenging links style course in the state. Vast changes in elevation make this course a tough one to walk. Caddies are available upon request and provide excellent knowledge of the course. There are several different tee options available for all skill levels. Don't let your ego dictate your tee choice or you may be struggling to reach the green in regulation. Ball striking and course management skills are key factors to scoring well here. Rates vary by season here so take advantage of those nice days before peak season for a great deal.
Current Rates
Pierce County Resident/Military (Jan-Feb): $69
Pierce County Resident/Military (March): $75-$89
WA Resident (Jan-Feb): $89
WA Resident (March): $95-$109
Juniors under 14 free with paying adult