Pro Golf Discount Custom Golf Club Fitting
Get Pro Fit – For Free!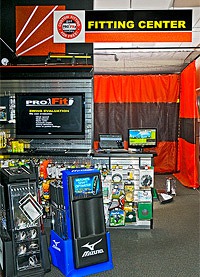 At Pro Golf Discount, we use the Foresight Sports GC2 golf simulation experience system, for accurate swing evaluation. All of our stores are equipped with the latest software technology to evaluate your golf swing and custom fit your clubs to match your unique swing characteristics. Our system measures club head speed, ball speed, launch angles, spin rates, and much more. What does that all mean? We will work to find you a driver with the ideal loft and spin for your swing to give you the longest, straightest drives possible. And the best part of all… ITS' FREE!
We all come in different shapes and sizes, and we all have unique golf swings… why get a set of clubs that aren't fit for your body? Get custom fit for FREE in our Pro Golf Theater!
Pro Fit: Qualified Swing Evaluation and Analysis!
All of our salespeople are Master Club fitters; each trained and ready to provide you with a positive experience.
Contact us to schedule your swing evaluation at a location convenient to you.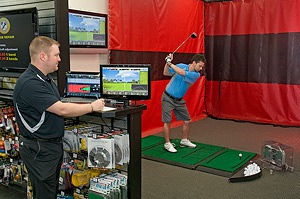 Pro Fit: A Typical Swing Evaluation Session
We start with Mizuno's new "Shaft Optimizer". This brand new technology measures 5 dynamic swing characteristics. The Shaft Optimizer will match your golf swing to a specific shaft.
Next we evaluate the length and lie angle. Our master club fitters will measure your length and find the correct lie angle for your irons. This will set you up to produce solid contact with the golf ball.
Finally, find the perfect driver to compliment your unique swing characteristics. We record all your swing information and keep it on file. You get individual, one-on-one attention from our club fitters, and an in-depth swing profile from your personal hitting session. We provide you a take home copy of the results as well as keep a customer profile that can be referenced and updated at any time.
We invite you to come swing any club in one of our convenient, indoor hitting cages. With the newest Foresight Sports GC2 golf simulation software our trained master club fitters can analyze your swing and recommend the right equipment for your game – TODAY!