Pro Golf Discount of Seattle has been serving the Seattle Area golfing needs since 1977. If you're looking for the largest selection of quality, name-brand golf equipment at the lowest prices, you've come to the right place.
All of our staff members are knowledgeable golfers who can offer expert fitting advice, recommendations and outstanding customer service. We are constantly testing new equipment so we can provide you with the most accurate information and get you the clubs that will best suit your game.
At Pro Golf, our goal is to make sure that you, our customer, has a great shopping experience…not just the best price anywhere, but the best service, too.
We are more than just low prices. Here are some of the other benefits of shopping at Pro Golf:
In-Store Hitting Cages & Putting Green
PGA Teaching Pros In-Store
Huge Left-Hand & Ladies Selection
Open 7 Days a Week plus Evenings!
5 Seattle area Locations to Serve You
Liberal return policy
60 day no-lemon policy
120% low-price guarantee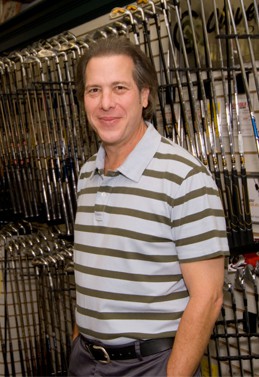 Hello golfers! My name is Randy Silver and I've been in the golf business for over 45 years. My love of the game stems from my enjoyment of the great outdoors, the camaraderie that comes from a round with your friends and family, and most importantly, the honesty and integrity in the game. In golf, we hold ourselves accountable to a higher standard. We alone are responsible for the execution of any given shot, and we call penalties on ourselves when we make a mistake. ProGolfSeattle.com is operated using the same guiding principles when it comes to business and customer service.
Hit 'em straight!
Randy Silver
Golf Lessons:
New! Pro Golf Discount is excited to announce that we now have a full time PGA Teaching Pro giving golf lessons in our stores. Lessons are available for for all skill levels and take place in our new Pro Golf Theater; featuring the best technology available to analyze and improve your swing.Visit our lessons directory to meet our other PGA Pro's near you!
On-Site Repair Available:

Did you know we do repairs? We feature an on-site Club Repair Center. Select from a wide variety of services available. Whether you need re-grips, new shafts or special modifications, Jeff Johnson, our experienced repair specialist, can make precision adjustments to your clubs to better meet your individual needs. For more information, visit the Repair Center page.
Fitting Center:

We invite you to come swing any club in our shop in one of our convenient, indoor hitting cages. With the state of the art Game Changer Launch Monitor (GC2) software from Foresight Sports, our Master Club Fitters can analyze your swing and recommend the right equipment for your game. This is a free service. You get individual, one-on-one attention from our staff and a documented profile of the details obtained from your personal hitting session.For more information, visit the Custom Fitting Center page.
Military Discount
We are proud to offer a discount to those in the military of 5% off regular retail prices, however some manufacturer exclusions apply. See store for details.